The Sky Is Not The Limit (Amanda Newton) Visual Synopsis by Dani Saveker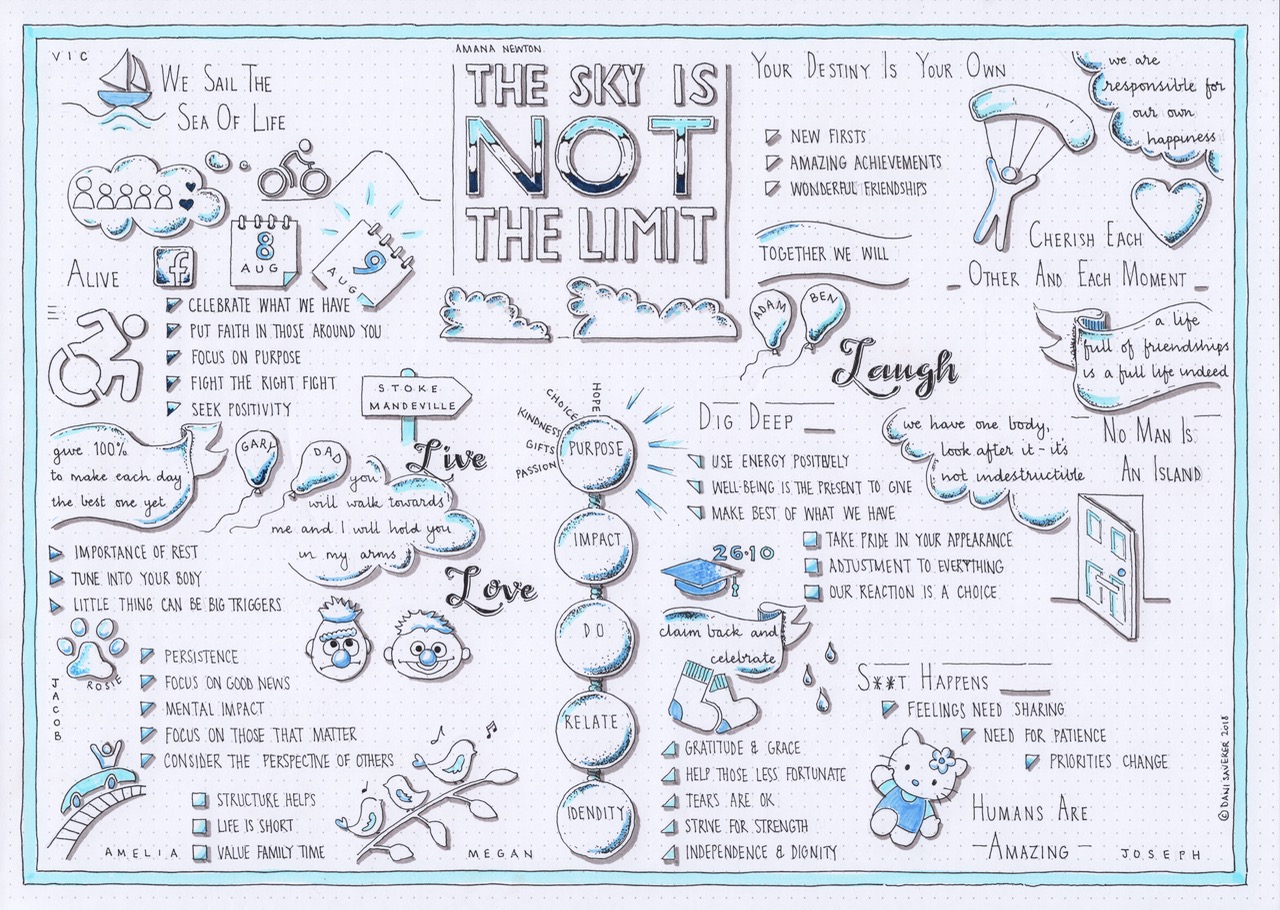 The Sky Is Not The Limit (Amanda Newton) Visual Synopsis by Dani Saveker
A bit of a different Visual Synopsis. This book was written by Amanda Newton who came to Dani's attention having been featured, along with her family, on the BBC television programme DIY SOS – The Big Build in December 2017.
Amanda, mum to Amelia, Megan, Joseph and Jacob, was training on her bicycle for an iron man when her brakes failed on Bury Hill, West Sussex. Travelling at 40 mph, she lost control and smashed into a signpost which catapulted her into bushes. The enormous impact meant Amanda broke 11 bones, punctured a lung and snapped her collarbone and her back. In vast pain, Amanda lay there motionless and described the sensation 'like my spinal fluid was leaking from my body'. It was two hours before Amanda was found by another cyclist. On arrival at A&E, she was told that she had been left paralysed. That evening, a national newspaper featured her selfie from the hospital with a beaming smile advising friends: 'I don't want to make anyone sad or upset but I'm not going to walk again', and she was determined to continue to compete as a para-athlete.
Amanda spent the next six months at Stoke Mandeville spinal unit. Even during her darkest days at the unit, she would help to feed other patients to keep busy and to remind herself that – in her mind – it could have been worse for her. After two gruelling 12-hour back operations, she returned home in a wheelchair.
Amanda recorded her continuing journey of recovery, and discovery, on Facebook. This forms the basis of the book The Sky Is Not The Limit. It is an honest and open account of her experience from the first day of the rest of her life. The visual synopsis aims to capture the essence of her story including family members, her husband Vic, Gary (the man that found her following the accident) and of course, Bert and Ernie – her legs!
The original artwork for this piece has been given to Amanda. We are not providing downloads of this piece as it belongs to Amanda.
Click here to buy the book today at Amazon (.co.uk)
Click here to buy the book today at Amazon (.com)